Looking for a camera? We help finding the best camera, lens, or drone and prices

When you start taking photos, you'll quickly realize how challenging it can be to capture that perfect shot without editing the photo. You simply see ...
CameraDealsOnline.com is a camera gear information website, where you can find anything from prices to reviews and blogs to top-lists. With us, it's easy to compare products and to find the best cameras, lenses or drones because we review them all. Our goal is to make it easy for you to find the perfect camera product. 
CameraDealsOnline exists thanks to our audience! We may earn a small commission when you click on one of the affiliate urls and buy something in a webstore. This doesn't have any effect on the prices we show. Thank you!
Tips for finding good camera gear prices
The process of finding a new camera can van quite difficult, and we are here to make it easier for you. First off, we'll start with some basic advice to help you find your camera for a good price. Let's start with shipping costs; we don't show them on the website because camera web stores won't charge you for shipping for products above £20 or £50. Another thing to keep in mind is that both camera stores and brand often put their products on sale with either discounts or cash backs. With a cashback, you're able to get a part of the money back, after you bought the product.
A few extra tips:
See our top-lists
Always check for discounts or cash backs on the vendor website
Be on the lookout for combination deals; for example a camera, with lens and bag
Shipping is almost always free
You always have a cooling-off period for 14 or 30 days (US consumer law)
How to compare and buy cameras
There are quite some factors that determine the best camera for you. First, you need to know which kind of camera you would like to have. There are different camera types, which have different kind of sensor. Here we will explain the most famous variants.
Most common camera types
Compact camera
Compact Bridge camera (superzoom)
Mirrorless camera
DSLR (Digital Single Reflex Camera
Actioncamera
Instant Polaroid Camera
Down on this page, we will go more into detail.
What do I have to keep in mind when I compare and buy a camera?
Many people think the number of megapixels is the most important factor of a camera, but actually that is not true. First, you should look at the type of sensor the camera has. The size of the sensor will tell you a lot about the quality and price. Make sure to keep the following elements in mind when choosing a new camera:
Camera type (Compact, mirrorless, DSLR)
Sensor size (1/2.3″, 1″, Micro FourThirds, APS-C, Full Frame, Medium format)
Is an electrical viewfinder (EVF) present?
Kind of LCD-screen; vari-angle, tilt or fixed?
Image stabilization; electric or physical?
Type if image processor
Film and photo functionalities; resolution of sensor and film, RAW, burst speed, color profiles, ISO-range
About camera phones
How do I find the best camera phone?
The camera phone deserves its spot on our website, since they start to take over the place of traditional compact cameras. The cameras in smartphones nowadays quite outperform the older compact cameras. We see that the high-end models have bigger sensors and even optical zoom. But how do you find the best camera phones? Well, it is clear both Apple iPhones and Samsung are the biggest phone manufactures in the UK, but of course Sony, Huawei, Nokia, and many others do build great camera phones as well.
Especially, the marketing of phones will try to make you believe the 200 megapixels phones are the best. But again, it's not about the megapixels, but about the sensor size. Next to the sensor size, the quality of the camera itself is a big factor. The more expensive the phone, the better cameras it boasts. Next to the quality of the processor, it is good to check if the zoom camera is digital or optical. Optical zooms are preferred, since digital zooms makes use of existing pixels and zooms on those pixels.
The reason camera phones are taking the place of compact cameras is because their AI-technology is so strong. This technology improves every photo by taking away noise and fill them in with pure blacks and color of the original photo. Even though camera phones have smaller sensors than traditional cameras, their technology is so strong, that it will take better photos than your old compact camera.
Will camera phones take over traditional cameras at some point? No, full frame mirrorless cameras pack so much power and quality and there will be no phone getting to that level. Especially since mirrorless cameras continue to improve as well and borrow AI-tricks from the phone industry.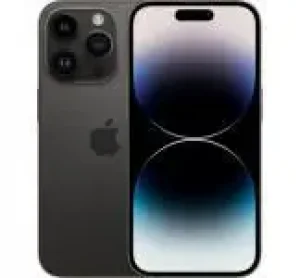 About digital photo cameras
What is a compact camera?
Are you looking for a camera to take quick and good photos with? In that case, you could check out a compact camera. The compact camera is a digital camera with fixed lens, that, usually, has an optical zoom function and works with automatic modes. The compact camera is a plug-and-play device, just like camera phones, and does everything automatically for you. The cheaper models won't allow you to change too many setting, but the more advanced (and more expensive) models will let you change any setting. The compact camera is not just for beginners, advanced shooters will have their fun with it as well.
Normally, the sensors in a compact camera are small, and the high-end models will boast a 1-inch sensor up to a full frame sensor. Nowadays, camera manufactures makes less or even no new compact cameras, since camera phones are starting to take over. With that said, it might be a great time to buy a compact camera, since prices are dropping. With us, you can find your camera deals online!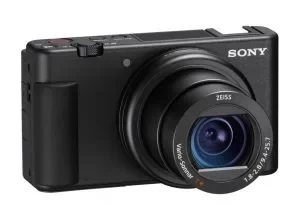 What is a mirrorless camera?
A mirrorless camera is an interchangeable lens digital camera. These cameras carry either a Micro FourThirds (MFT), APS-C or Full Frame sensor. It is possible to buy these models in each price range, and they're both good for photography and film. The big difference between mirrorless and DSLRs is that they don't have a mirror, like DSLR's have.
Mirrorless cameras are digital, and you can use them for a wide variety of subjects. The cameras with vari ngle LCD-screen are popular vlogger cameras. The advanced models make it possible to film in resolutions from 4K to 8K! The Micro FourThirds and APS-C sensor have a respective 2x and 1.5/6 crop in comparison to full frame sensors. The full frame sensor (35mm) are most expensive; therefore, full frame cameras will cost more and are used by more advanced users. This doesn't mean MFT and APS-C cameras are the lesser option. In some cases, they can achieve the same quality in both film and photography.
The difference between the sensors is the size. Bigger sensors, like full frame, have pixels that are bigger and can take in more (light) information. This results in better image quality and, typically, a bigger dynamic range. With full frame sensor, you get a bigger field of view in comparison to MFT and APS-C sensors. So, if you are a landscape or architecture photographer or filmmaker, full frame might suite you well. But, if you like to shoot sports, fast-moving objects like birds or love a shallow depth of field, MFT and APS-C sensor help a lot. With any sensor, you can achieve any kind of film and photography because it depends on the kind of lens you use as well.
Well-known brands for both compact and mirrorless cameras and DLSRs are Canon, Nikon, Panasonic, Sony, OM-D Solution (Olympus) and Fujifilm. If you buy a camera of these brand, you will always have a quality camera.
Wat is een bridge camera?
A bridge camera is a combination between a compact camera and mirrorless camera. The officially named 'compact bridge camera' has a fixed super zoom lens and a body that looks like a mirrorless or even DSLR camera. These 'super zoom' cameras have a lens that can zoom optically up to 120 times. It are not the smallest cameras, but still great models to take on holiday. They make fine film and take excellent photos. And of course, they can zoom in perfectly on anything. With some models, it is even possible to fill your whole frame with the craters of the moon! This camera has the advantage that you can fine tune all settings, whereas with a compact camera, you normally shoot in 'automatic' mode.
What is a DSLR camera?
A DSLR is a Digital Single Reflex Camera with a mirror that reflexes the incoming light through the lens, via a pentaprism, to the optic viewfinder. The optic viewfinder has an advantage over electronic viewfinders because everything you see is in real-time, without delay or black-outs. With pain in our hearts, we have to say that DSLRs becoming old and brands like Canon and Nikon already let the world know they won't be developing new DSLRs any more. That is both good and bad news. Bad news for DSLR lovers, but it also means that the last models will drop in price. DSLRs are being taken over by mirrorless cameras, which are smaller, lighter and nowadays can do the same and more as DSLRs.
DSLRs are not just for advanced and professional users. There are models that will cost you less than £500, with lens. These beginner models, like the Canon 250D and 90D (older models) are easy to use, light and take great pictures. The newest DSLRs are professional models, used for mainly sports photography. DSLRs host both APS-C and Full Frame sensors. The APS-C sensors are smaller and cheaper, and the cameras are as well.
The difference in price has to do with the overall quality, quality of image processor, sensor, and functions. More expensive and advanced models will host 4K+ resolutions with higher frame rates. Weather resistance, wireless connections and RAW possibilities are elements that will make a DSLR more expensive as well. Most famous DSLR producers are Nikon and Canon.
What is an Instant or Polaroid Camera?
An Instant or Polaroid Camera lets you take photo you can immediately print on special photo paper. With some models, you'll have to wait a few minutes before the picture is visible, but most modern models will give you a finished photo instantly. The newest technique is to use ZINK (Zero Ink) paper, where the colors are already part of the paper. The official name for this camera kind is 'Instant Camera' and the brand Polaroid built an instant camera as well. But, because Polaroid is so famous, people often call these type of cameras Polaroid Camera.
Using an instant or Polaroid camera lets you keep and share memories with your friends or family at parties and events. It is a great tool as well to get creative with. The more advanced models let you change some light settings or place some filters in front of the lens. It is also a great tool to get started in photography.This is because the photo paper is expensive. Meaning, you really have to think hard before you take a photo.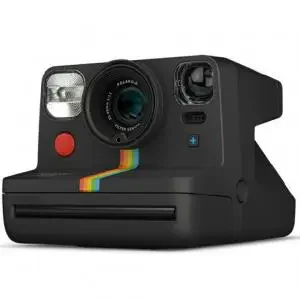 What is an action camera?
An action camera is a very small, but very powerful camera that is waterproof and take high-quality video. The action camera is made for capturing film in places where it is most difficult, like (extreme) sports like cycling, climbing, surfing or paragliding. The camera is attached to either a helmet, body vest or directly to a snowboard or skateboard. Nowadays, the action camera transformed to a video camera that records high-end audio is well. Meaning, you can use it as a sturdy vlogging camera as well. The in-body image stabilization is superb, whilst video is captured in resolutions up to 6K. The newest models have fun modes build in as well. Now it is easy to create star lapses, light paintings or even 360-degree videos.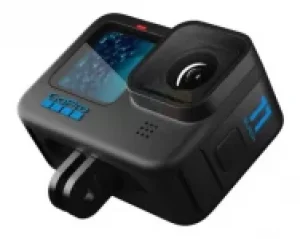 How do I choose the right camera?
Which digital camera to buy depends on what you want to do with it and in what way. First, think about what you want to take photos or film of and in what way. After, you should compare all kinds of camera models based on functionalities, reviews, and prices. Of course, we help you with that!
How do I choose the right camera?
You select the correct camera by knowing what you would like to capture, determining your maximum budget, and by thinking about what you want with the camera. Do you want a small camera which you can take everywhere with you (compact camera), or a large and sturdy camera that fits perfectly in the hand and has a grip (mirrorless or DSLR camera)? A mirrorless camera is also a great choice if you are a novice to semi-professional filmmaker.
If you would like to have the functionalities of a compact camera and also be able to zoom in far, then Bridge camera could be the right option for you. These cameras are slightly cheaper than mirrorless cameras, but they do have many settings you could change manually.
Holiday pictures
To take versatile photos on holiday, you will need a compact camera that can zoom in 4.5x to 12x (or more). Compact or Bridge cameras are packed with special pre-installed creative features. Everything is done for you, and you almost always get a perfect shot. Any compact camera is suitable for taking photos that you can print later for photo albums, or canvases. If your photography requires extreme zoom, you should check out bridge cameras. With either compact or bridge cameras, it is important to check if these cameras have Wi-Fi / blue tooth and a tilt or vari-angle LCD screen.
Portrait photography
Portrait photography is more than just taking a picture of someone's face because there are many important elements that influence the quality of your photo. The composition, location and environment, crop and light are some of these elements. And of course, we shouldn't forget the person you photograph and in what way. To take a good portrait picture, you could work with both crop-sensor and full-frame cameras. You will find these kinds of sensors on both mirrorless and DSLR cameras. Because you want to see many details, it is essential that the camera can shoot in RAW, in addition to JPEG photos. These photos record as much information as possible, giving you a large dynamic range, sharp details and a lot of room to edit colors.
Full frame vs crop sensor (APS-C / MFT) for portrait photography
There is a difference in shooting portraits with a crop-sensor (APS-C/MFT) or Full Frame camera. A full frame camera gives you a wider field of view, while a crop sensor will be more zoomed in. When using an APS-C or Micro FourThirds sensor, you will notice you will have a shallower depth of field. Meaning, more blur and bokeh. Why is that important? Because it might change your choice of glass you buy. Usually, lenses for full frame cameras are more costly than for crop sensor cameras.
Shooting fast-moving subjects with fast shutter speed
If you'd like to photograph moving animals, athletes or cars, you need a camera with fast shutter speed capabilities. A fast shutter speed means that your mirrorless camera or DLSR only opens its shutter for a fraction of a second. A 8000th of a second, for example. However, if the shutter is open very briefly, that bit of light must be strong enough to expose the photo. To ensure the light is strong enough, you need to use a fast lens (with large aperture) like f/1.8. Another way to catch lots of light is to use a sensitive sensor. A bigger sensor catches more light, and a good image processor helps to crank up the ISO without seeing too much or any noise in your photo.
Landscape & Architecture Photography
If you want to capture large objects or wide views, it is best to use a full-frame mirrorless or DSLR camera with a wide lens. Think of a lens that has a focal length of between 8 and 20 mm at its widest. Tilt-shift lenses are popular as well for architectural photography. These lenses ensure that straight lines won't distort, and you have the possibility to fix distortion before the photo is taken. Using normal (ultra) wide lenses when shooting buildings or architecture could result in distorted lines.
Filming vlogs
Vlog stands for Video blog, and it's a popular way of brining across messages, news, journeys, and reviews. A weblog used to mean writing pieces about your own or someone else's life and activities, but now we know blogging weblogs as 'blogging'. If you feel it might be easier for you to recorder your message, instead of writing it down, then a vlogging camera could be good for you.
When vlogging, make sure you use a small camera that is not too heavy, has good autofocus and has a 180-degree tiltable (touch) screen. In addition, you can also check whether the camera has a microphone connection because nothing is more annoying than watching a (talking) video with bad sound. Another point of attention is the 'hot shoe'. This accessory shoe can be found on top of the camera. You can attach a flash, external lamp or microphone to this. You can use a compact camera for vlogging, but due to the limited setting options, we recommend a smaller mirrorless camera. This also makes it easier to choose the right (light) lens.
What do I keep in mind when buying a camera?
As an advanced photographer, you might already know what you're looking for in a camera, but for intermediate and beginning photographers it might be more difficult. In this part, we will explain which elements in cameras are important to look out for.
Wifi, Bluetooth, GPS and NFC
If you would like to share your creations instantly to social media, your camera needs to have either Bluetooth or Wi-Fi. The Wi-Fi will help you to transfer your images to your phone, while the Bluetooth will turn your phone in a remote screen. You could use your phone to operate the camera and change settings. GPS is helpful when you take photos in remote places like mountains or desert. The GPS records not only your location, but also date, time, and height. NFC is a handy function that will let you transfer data or files without a wired or even Wi-Fi connection. You will need both a phone and camera that support NFC connections.
Vari-angle LCD screen and touchscreen
Whilst every modern camera has an LCD screen, not all of them are touch or even tilt. It is important to check if the screen has touch capabilities and if it tilts or pan. The best touch LCD screens will be vari-angle. Meaning, you can both tilt and pan them. Most essential (for vloggers) is that you can fully rotate the screen, so you can see yourself. Being able to rotate the LCD is also critical when you find yourself in uncomfortable positions while shooting. When filming yourself in selfie mode, it is handy to be able to change settings through the LCD because turning physical knobs can be quite a pain, since you have to turn them in the opposite direction.
Megapixels are important until a certain extent
Marketing companies try to sell you their phone with extreme megapixel counts, but we know that megapixels are not the most significant factor in a camera; it is the sensor (see below). Of course, when you like to crop and zoom-in on your photo, megapixels indeed are significant. But, they don't determine the quality of your photo. You might have a 50 megapixel sensor, but if each of those pixels are filled with underexposed or corrupted information, your photo will be bad as well. More essential is the quality of those pixels, which has everything to do with your sensor.
Most photo cameras have a minimum of 15 megapixels, which is more than enough to print photos for a photo album or even a canvas. So, if you are looking for using your camera for holiday photos, album, or even canvas printing, any megapixel count will do. It is more significant to focus on the right lens, sensor, and image processor.
Sensor type and size
Size doesn't matter? Well, it does. At least, when we talk about camera sensors. Bigger sensors catch more light and information and therefore will get your images with higher dynamic range. The downside of big sensors like full frame or medium format is that they are expensive. Other good options are Micro FourThirds and APS-C. These sensors have a respective crop of 2x and 1.5/6 times in comparison to a full frame sensor.
Now, a full frame sensor is not always the better choice. This is because the crop factors of the smaller sensors can be useful with certain types of photography. A crop sensor has a smaller field of view and is more zoomed in than a full frame sensor. For example, place a 35mm lens on an APS-C sensor with 1.5x crop, will result in an effective focal point of 52.5mm. Try this with a 200mm lens and your effective focal point will be 300mm. This is ideal for bird, wild and sports photography. You're even more zoomed in with a Micro FourThirds sensor, since it has a crop of 2x.
Types of photography and good sensors
Full Frame 35mm: landscape, architecture, interior photography, buildings, and cities
APS-C 1.5/1.6x crop/zoom: Wild, birds, animal and sports photography
MFT 2x crop/zoom: Wild, birds, animal and sports photography
1″ sensor: you find these in drones, compact cameras and some high-end smartphones
1/2" of 1/2.3": mostly in phones, compact cameras and smaller drones
These are just suggestions, since you can shoot any subject with any sensor. If you want to zoom in a lot when using a full frame sensor, you just need a strong zoom lens.
Stacked sensor
In both MFT, APS-C and Full frame sensors you will find Stacked or BSI-sensors. These are more advanced than the standard sensor. A stacked sensor is built up from different layers and has to possibility to put GB-RAM storage in the sensor itself. This results in faster readout speeds and faster sensors.
BSI sensor
A BSI, Back Side Illuminated, sensor is more advanced than a Front Side Illuminated sensor. The photo diodes are placed in front of the metal wiring, so they can take in more light. Of course, this will result in more light information and photos with more detail.
Common sensor types
Full-frame (35mm – catches a lot of light, wider field of view and is also more expensive)
APS-C (smaller sensor and your image is zoomed in 1.5x or 1.6x)
Micro FourThirds (Your image is zoomed in 2x)
1-inch (common in compact cameras and drones)
1/2″ or 1/2.3″ inch (especially in compact cameras, but drones a swell)
As well, for drones and compact cameras it is preferable to choose a bigger sensor. For example, there are drones that film 8K resolution on a 1/2" sensor and 6K on a 1-inch sensor. In that case, we would always opt for slightly less resolution on a larger sensor.
Video quality from a camera
If you are planning to make videos, then of course you want to have great video-features on your camera as well. Fortunately, most cameras have this function that allows you to film at least in Full-HD (1920 × 1080 pixels). If you are a hybrid photographer and film-maker, Then it is best to look at a mirrorless camera. Nowadays, Nikon, Sony, Canon, Fujilm and Panasonic Lumix make good mirrorless cameras with good video capabilities. It is worth noting that videos with a higher quality than Full-HD often cannot be transferred via WiFi or NFC. You will then have to insert the memory card into the computer to transfer the images manually.
Bit rate, frame rate and compression
But just like with megapixels, the resolution does not say much about the image quality. If you buy a cheap camera that can film in UHD 4K (3840 x 2160p), you will most likely get videos recorded at a maximum of 30 frames per second, a lower processing speed (50 Mbps) and stored with a relatively large compression. A more expensive camera will be able to record a 4K DCI (4090 x 2160p) video at up to 60 fps (or more), 400 Mbps and without compression. Both video files in this example are 4K, but the quality is different.
Do you just want to make fun videos of your holiday or in between? Then the video function of almost any camera will suffice.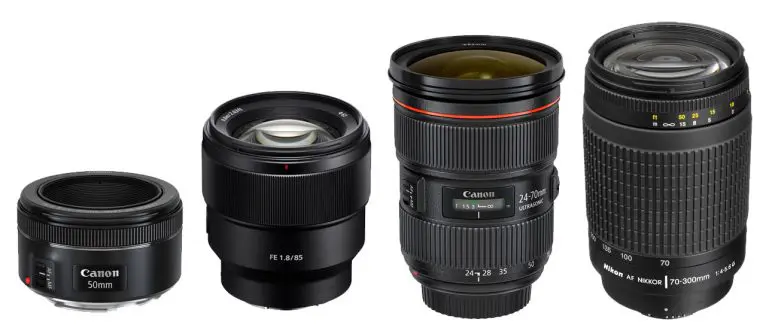 Choosing a camera lens
The camera lens is perhaps the most important part of your camera. Every photographer will agree that they would rather have a bad camera with a really good lens than the other way around. But how do you choose and buy the right lens for your camera, and when do you buy a better kit-lens than the one you received in the camera package?
When you buy your very first mirrorless or SLR camera, and you are new to photography, it is a good idea to buy both the body and lens in a package. The lens you get with this is called the 'kit lens'. Kit lenses are standard zoom lenses that often have a relatively large zoom range and a variable aperture. Think of an 18-135 mm f/3.5-5.6 lens. The aperture is set to f/3.5 when your focal length is 18mm and to f/5.6 when you zoom to 135mm. An all-round lens like this is perfect for experimenting with focal lengths.
Why would you use a lens other than the kit lens?
Kit lenses are of excellent quality and can deliver good results. They are cheaper and lighter, but also of lower build quality. The build quality has to do with both the material used and the technique, the type of glass and how it is cut and polished. When you take a photo of the same subject with a kit lens and a high-quality prime (fixed focal length) or zoom lens, you suddenly see an enormous difference in quality. In addition, with more expensive lenses, you have the option of setting your aperture to f/1.2 or even f/0.95. That means that a lot of light comes in, and you can take very nice depth of field photos. With little depth of field, a small portion of the photo is sharp and in focus, and the rest has a pleasant fuzzy blur.
A Canon 50mm f/1.2L USM or 24-70mm f/2.8L USM lens is of very high quality in construction and glass. When you open the lens ( f/1.2) you still have an extremely sharp photo over the entire image, something that can sometimes go wrong with cheaper lenses.
When you buy a lens with a fixed focal length (a 50mm f/1.2 prime), everything in the lens is built around that one focal length. You can imagine that this produces even more sharpness because there are no parts that rotate when you zoom in. With a zoom lens of 24-70 mm f/2.8 or 70-200 mm f/2.8, you have the same maximum aperture available over the entire range. That means that even when you're zoomed in at 200mm, you can still get shots with little depth of field (sharp foreground, very blurred background).
If you buy cheaper zoom or prime lenses, blurriness and different colors (chromatic aberration) are more likely to occur in bright light or when you zoom in fully. When buying a new camera, always check how much money you have left for a good lens.
What kind of lenses are there?
Lenses come in two main types: a zoom lens and a lens with a fixed focal length (prime). Within these two main types you have different types of lenses:
Ultra wide (landscape/architecture/interior)
Wide angle (landscape/architecture)
Standard/normal zoom (everyday use/small zoom)
Tele/Zoom (Wildlife/Nature/Sports)
Superzoom (usually the kit lens/all-round photography/big zoom)
Macro(Insects/Flowers/Portrait)
Prime (different, but increases photo quality)
Pancake(street photography/travelling/inconspicuous)
Tilt-Shift(Architecture/Reduce Line Distortion)
Fish eye(Convex lens for sports, architecture and creative effects)
Cinema lens (Especially for videographers)
What kind of lens is right for me?
Because every mirrorless and SLR camera brand has its lens mount, 'only' a limited number of lenses fit on it. That is a pity on the one hand, but on the other hand it ensures that you can make your choice easier. In addition, the sensor type (Full Frame / APS-C / Micro FourThirds) also affects the type of lens you can use.
In general, it is important that the mount of the lens matches the mount of your camera. A Canon EOS R5 has an RF mount and any lens with an RF connection will fit directly onto it. The brand does not matter. Not only Canon makes lenses for their own cameras, brands such as Samyang, Tokina, Sigma and Tamron also produce lenses that fit on cameras with an RF mount. If the lens you have in mind does not fit directly on the camera, you can always use a lens adapter/converter.
Once you have made an overview of all the lenses that fit on your camera, it is important to consider what kind of subjects you want to capture. Above, where we list all lens types, you can see what kind of lens suits your photography or film subject(s). For sports photography, you want a lens that allows you to zoom in quickly and that has a secure and fast autofocus. Capturing large buildings or interiors is usually done with wide-angle lenses.

Picking the right drone for you
Drones come in all shapes and sizes, and are suitable for different types of pilots. The drone has been used for years for professional and military purposes, and the consumer drone has also been on the market for some time. Most consumers use smaller drones with a built-in camera. The professional drones are for sale without a camera, so you can choose which camera model and lens you use.
The best-known brand for consumer drones with a camera is DJI. But, Autel and Parrot are also major drone manufacturers. In general, DJI drones are almost always among the best drones at the moment. This is because they are easy to fly and safe in use. They also offer good image quality and are affordable.
How do I pick a good drone?
The kind of drone you will buy depends on how you want to use it. You use certain drones mainly for film or photography, but most can do both. If you mainly would like to make fun flights, an expensive drone is not necessary. If a drone weighs under 250 grams, it is considered a consumer toy, and that means you can fly it almost anywhere, without license. The smaller drones have fewer options to manually adjust settings. That can be a disadvantage if you want to set everything yourself, but it also ensures that you don't lose time on the perfect setting. Besides, the automatic functions of the drones almost always give superb image quality.
The more professional drone uses better software and hardware, and provides the opportunity to fly longer. In addition, there are more settings that you can adjust yourself, plus the overall image quality is often better. These drones are heavier, larger and cost more.
When choosing a drone, keep the following things in mind:
The price
The size of the sensor (the bigger the better)
The weight (under 250 grams can fly anywhere, without license)
The flight time on one battery
As a filmmaker: the video specifications (RAW?)
Resolution
Frame rate
Log gamma settings
Manual settings
Diaphragm
Dynamic range
Automatic flight functions
Subject tracking
Cinematic motions for film
Range of the controller
How the app works and whether it is user-friendly
Safety: obstacle sensors or a system that indicates that other aircraft are nearby.
As a photographer
Resolution
RAW/JPEG options
Gamma settings
Burst options
What are the rules for flying a drone?
If you are going to fly a drone, there are quite a few rules. For example, you must register every drone in the US with the FAA. If the drone weighs more than 250 grams, an official training must be completed and a pilot's license must be obtained. The rules for drones above 250 grams differ. The bigger and heavier the drone, the more rules there are. Most importantly, never fly above crowds and with larger drones, you should keep at least 500 feet away from buildings. Of course, airports and military locations are always a no-fly zone. Nowadays, the signal from your drone and controller is also blocked when you fly in a no-fly zone.