Sony A6700 test and review: high-end hybride consumer camera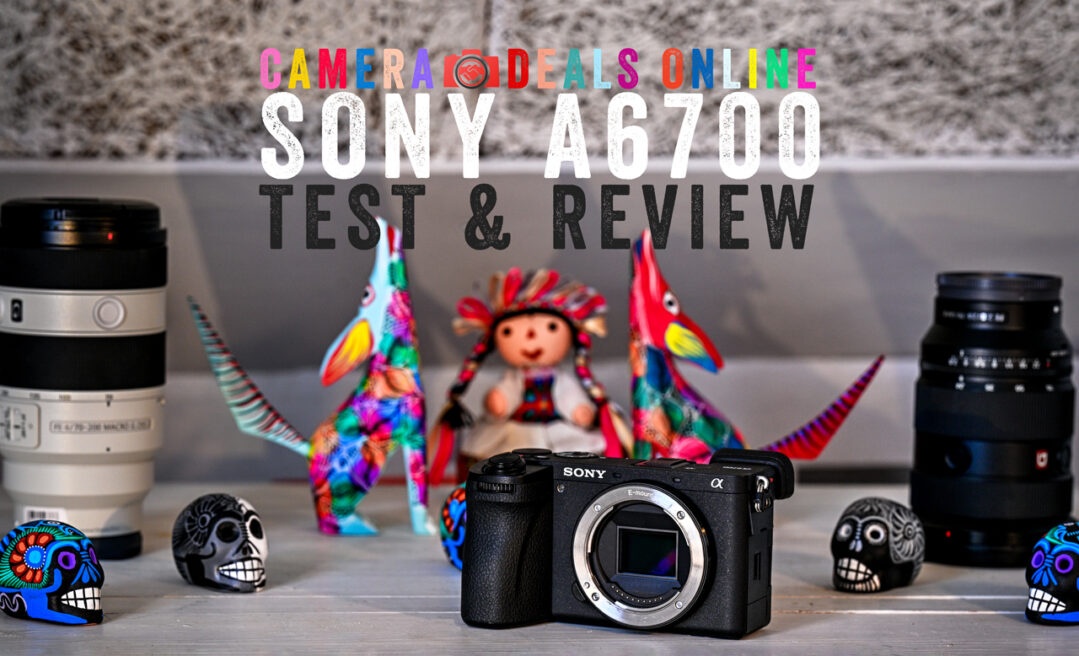 Sony Netherlands has lent me the A6700 for an extensive test, and I have certainly put it through its paces! The successor to the A6600 has been highly anticipated and is now here with the latest technologies and features. I can already reveal that it is an impressive camera that will capture the hearts of many Sony fans. Let's begin with the Sony A6700 test and review.
Sony A6700 in short
The Sony A6700 is the long-awaited APS-C successor to the 2020 A6600, and it was worth the wait. The mirrorless camera uses new AI-assisted autofocus techniques, capable of recognizing even insects. Additionally, the camera has a compact body (great for travel) and impressive photography and video capabilities. These include features like 4K 60fps and 120fps recording at high bitrates and shooting with a 26-megapixel BSI CMOS sensor. You can also utilize Auto Framing for video, adding a creative touch to your vlogs, although it's not an option you'll use daily. The buttons on the A6700 are well-placed, giving you full control over the camera. You can benefit from 5-axis stabilization, which works particularly well for photography. Working with an APS-C sensor means that noise becomes noticeable at higher ISO values (above 6400). All in all, it's a powerful camera for its size and comes with impressive features. It's a true competitor to cameras like the Fujifilm X-S20.
PROS
Good AI autofocus
Decent battery life
Sharp video
Variety of lenses
Great for travel
CONS
Noise becomes bothersome after ISO 6400
Significant crop at 4K 120fps
Pricy in its segment
Where can I buy the Sony A6700?
Table of Contents: Sony A6700 review
Table of Contents: Sony A6700 review
Table of Contents: Sony A6700 review
This review is 100% independent and not sponsored by Sony Netherlands or any other party. Sony Netherlands provided the Sony A6700 for testing without any conditions on the final judgment. This article is based on my experiences with the camera, and based on that, I have formed my opinion and conclusion.
Sony A6700 Test and Review: Introduction
The Sony A6700 is the successor to the 2020 Sony A6600, and the A6700 was introduced on July 12, 2023. The A6700 competes with Sony's own ZV series, compact mirrorless cameras designed for vlogging and compact cameras without viewfinders. So, what does the A6700 bring to the table? That becomes clear in this test and review!
Sony A6700: Features
Let's take a look at the general features of the Sony A6700 and how they compare to its predecessor, the A6600.
Sony A6700 Specifications:
Sony A6700 (2023)
Sony A6600 (September 2022)
Sensor
APS-C BSI CMOS 26MP
APS-C CMOS 24.2MP
Processor
Bionz XR
Bionz X
Autofocus
759 AF points with AI technology | Phase detection
425 AF phase detection
Image Stabilization
5-axis internal
5-axis internal
ISO
100-32,000 (50-102,400 expandable)
ISO 100-32,000 (expandable to 102,400)
Resolution Format
6192 x 4128
6000 x 4000
Video
4K 120fps (with 1.6x crop
6K oversampled 4K 60fps
FHD 240fps
S-log3 | S-Cine | 10-bit 4:2:2 HLG
UHD 4K 30fps | FHD 120fps
S-Log
Viewfinder
2.36 million dots 120fps
2.36 million dots
Memory Cards
1x UHS-II SDXC
1x UHS-II SDXC
LCD Screen and Resolution
3″ 1.03 million dots vari-angle touch
3″ tilt 921,600 pixels touch
Burst FPS
11fps with AE/AF tracking
11 fps with AE/AF tracking
Image Stabilization
5-axis
5-axis
Shutter
min 30 sec / max. 1/8000 electronic
30 sec to 1/4000
Battery
NP-FZ100 | 570 shots
NP-FZ100 | 810 shots
USB Ports
1x USB-C 3.2 Gen 2 + charging
USB 2.0
HEIF Format
Yes
No
Body Size
122 x 69 x 64

mm

120 x 67 x 69mm
Weight
409 grams / 493 grams with battery and card
509 grams with battery and card
Price
$1398 for the body
$998 for the body
The Sony A6X00 series has been around since 2013, and with its APS-C mirrorless cameras, it has reached many travel and weekend content creators. The bodies are notably compact, and when paired with lightweight E-mount lenses for APS-C, the entire setup is perfect for traveling. The A6XX series suffered from neglect due to Sony's focus on full-frame models, but fortunately, Sony has awakened, and the A6700 is now on the market.
Compared to its predecessor, the A6700 has made significant improvements in almost every aspect, except for the battery life. Although it uses the same FZ100 battery, the A6700 can capture 470 shots according to CIPA, instead of 810.
Also Read: Sony A6700 vs A6600: Differences and Similarities
Sensor
The Sony A6700 features an APS-C sensor with a 1.5x crop compared to a full-frame 35mm sensor. This means that with a 24mm lens, you are effectively at 36mm. This is useful for sports and wildlife photography and videography. The sensor has seen significant improvements compared to its predecessor, with more megapixels and the use of a Back Side Illuminated (BSI) design. This design allows incoming light to be captured and processed in a better way, resulting in improved image quality and low-light capabilities.
Image Processor
A significant step forward is the image processor. The transition is from the Bionz X to the XR. This processor is faster and can read heavier files at high speeds. With the new image processor, I expected the burst speed to increase, but it has remained at 11 frames per second. On the other hand, it is now possible to record UHD 4K videos at higher bitrates.
Shutter Speed
With a shutter speed of 1/8000, the A6700 has become much faster. This fast shutter speed, combined with the electronic shutter, can assist in capturing extremely fast-moving subjects.
Most users will rarely need such a high-speed shutter, but if you ever forget your ND filters in bright light, it can be helpful.
Sony A6700 test and review: Build and Design
The concept of the A6XX series is to be compact and lightweight. With a weight of 493 grams (with card and battery), it is certainly not a heavy camera, but when you attach lenses to it, the weight increases. Of course, you can keep the setup small and have a lot of power in a compact body.
Buttons
The button layout feels natural and will be familiar to Sony users. A new button has been added under the main mode dial, allowing you to switch between photo, video, and S&Q modes. Such a button is handy as it speeds up the workflow. Note that the menu also has separate settings for video and S&Q. This may be confusing for new Sony users.
Setting the exposure triangle (ISO, Aperture, Shutter) is very smooth. You can assign buttons to your preferred functions, but in the M mode, you adjust aperture and shutter speed using the rear button and the one below the shutter button. Use the rear dial and the ISO button to adjust the ISO value.
Fn Buttons
Multiple Fn buttons can be found on the camera, which is important for creating a smooth workflow. If you don't normally use Fn buttons, it's recommended to do so. You can assign many functions to these buttons. There is an Fn button on the back, on top, and on the right side.
LCD Screen
A vari-angle screen is now common on Sony cameras, but for years, Sony was the only brand still exclusively using flip screens. Of course, this is cumbersome for videographers. The advantage of a flip screen is that it can be tilted up a bit for the right angle without having to fully flip the screen open.
Sony has now fully transitioned to vari-angle screens. The A6700 features a 3-inch screen with 1.03 million dots. It's not the highest-resolution screen on the market, but it's more than sharp enough. The touchscreen also works well and is responsive.
Electronic Viewfinder
The electronic viewfinder hasn't seen much development compared to its predecessor, and that's a disappointment, especially considering its price. According to Sony, the viewfinder is brighter and sharper, but it's somewhat underwhelming. The refresh rate has increased to 120fps, but that seems to be the only improvement.
The viewfinder is located in the upper-left corner, which may take some getting used to if you're accustomed to a DSLR-style body. The camera has a sensor that automatically activates the viewfinder when you look through it, but this auto-detect function seemed rather slow compared to other cameras. Given the camera's hybrid nature and the current technology, it could be much faster. In practice, in auto-detect mode, I had to fully close the LCD screen (with the screen facing inward) before the EVF turned on.
An advantage of having the viewfinder in the upper-left corner rather than on top is that the camera is more compact and fits better in a housing. So, the A6700 has an electronic viewfinder with a 120fps refresh rate, but that's about all there is to it in terms of improvements.
Connections
All connections are located on the left side of the camera, and it's convenient that all cables are on only one side. This way, you can use the USB-C 3.2 connection for charging and transferring materials. There are, of course, microphone and headphone connections available.
For HDMI output, there's a micro-HDMI port. I don't see many content creators using this in combination with an external recorder, since you can't output RAW or ProRes.
The inputs and outputs are covered by plastic flaps instead of rubber covers. This works fine, but the plastic is prone to breaking.
Card Slots
On the Sony A6700, you have only one memory card slot, which is not surprising considering the camera's compact body. So, it's not possible to make direct backups to a second card or automatically switch to the second card when the first one is full. But do you really need that with a camera like this? I've mentioned it a few times; make sure to use a fast memory card if you want to record 10-bit 4K (120fps) footage. You can consider the SanDisk Extreme Pro | 300Mb/s, V90 II, Class 10 | 128GB.
Battery
The A6700 uses the FZ100 battery. Sony provided me with a single battery, so it means you need to plan carefully how and where you use it. During my day out, I also had the Nikon Z8 for review with me and noticed that the A6700, with consistent use, lasts longer. Of course, these are two completely different cameras that handle energy differently, but it's still noteworthy.
The CIPA rating for the FZ100 in the A6700 is 550 shots, but you can easily surpass that with frugal use. I came home with over 1500 shots (RAW+JPEG) and many high-end 4K videos and still had some battery left.
It's always a good idea to have one or two extra batteries with you. But if you don't, you can charge the battery in the camera via USB-C. This should work with any USB-C charger, although it's recommended to use the provided USB-C cable.
The A6700 Menu
Sony has now introduced a completely revamped menu that is much better than the confusing one they had before. The new menu looks sleek and is easier to use. However, there are so many settings that it can be overwhelming for non-tech-savvy users. Even if you want to dive into it, there's so much that I almost don't feel like it.
On the other hand, you would have heard me complain if the A6700 had a menu with only basic settings. In that case, it's better to have too many menu functions that you don't touch than to miss essential ones.
What's tricky about the Sony menu is that some functions won't work if another function is enabled. While Nikon's menu tells you which setting conflicts with another, Sony's menu does not.
Sony A6700 Test and Review: Photography
Photographing with the Sony A6700 can be done with 26 megapixels. And although this may seem limited, it is more than enough for most types of photography. Within this price range, 26 megapixels are reasonably standard when you look at the competition.
The photos from the A6700 are sharp, have somewhat harder contrasts, and are not overly saturated. Of course, you can adjust this later to your liking, especially when using RAW files.
Sony is known for producing accurate skin tones, and the A6700 is no exception. They look true to life and soft. The automatic white balance also handles whites well in various situations.
Burst Mode
It's clear that you're not getting a sports or wildlife camera with this one. You can only take 'just' 11 photos per second. Of course, you can apply this to any fast-moving subject, but it's not enough for serious and professional work.
ISO and Noise
Sony cameras are known for their good ISO values and noise reduction, but that mainly applies to their full-frame sensors. That means the APS-C sensor performs slightly less in this regard. But that's not surprising.
View the large ISO color chart photos.
You can confidently set the ISO up to 6400, but beyond that, the noise becomes almost too heavy to work with. It's advisable to shoot in RAW when you find yourself in less well-lit situations.
Sony A6700 Test and Review: Autofocus
Autofocus is becoming increasingly important on a camera, but there will be photographers and filmmakers who swear by manual focus and consider it 'real.' But why? There's also a Gibson guitar that tunes automatically, but that doesn't mean you can play a Slash solo right away. In the current era of AI autofocus, there's so much possible, and it can prevent expensive human errors.
What about the autofocus on the A6700? It incorporates the latest AI techniques thanks to the Bionz XR processor and AI chip and can recognize many types of subjects. The focus utilizes 759 AF points placed across 100% of the sensor.
A new subject recognized is insects. These are added to the list of humans, animals, birds, flowers, vehicles, airplanes, drones, trains, and more!
Insect Focus on the Sony A6700
In my front yard, there are plenty of plants with flowers that attract bees. A good place to try insect focus with a macro lens. It may be that this combination made it challenging, but the A6700 struggled with it. I hoped that the good eye focus in combination with insect focus would focus on the eyes of the bees, but it doesn't. To make the insect focus work well, it's better to stay at a distance so that the focus can recognize the entire insect. Slightly disappointing. But then again, which other camera has insect focus? Maybe it's better to turn off object recognition and use normal autofocus.
All the photos below are taken with the Sony A6700 and macro lens FE 70-200mm f/4..
View and download these photos in larger format.
On paper, insect focus makes the A6700 suitable for macrophotography as well. However, even with the FE 70-200mm f/4 Macro G OSS II in macro (and non-macro) mode, I noticed that insects like bees and bumblebees were not always well detected. It took the camera quite some time, and many insects had already flown away. Note: I used f/4, which challenges the camera. In macrophotography, it's a good idea to use a smaller aperture like f/8 to f/11, especially with faster insects. In the end, some usable photos came out, sometimes with luck. And honestly, a moving flower, fast-moving insects, and changing light (clouds/sun) are always a challenge for a camera.
Animal Focus
Birds and animals, on the other hand, are recognized and tracked well and quickly. I took the camera to the zoo, and it did an impressive job picking up the eyes of giraffes, iguanas, pelicans, and lions.
View the larger versions of the animal photos.
If animals are partially hidden or camouflaged, the autofocus may have a harder time recognizing them. That's not very surprising, of course.
Human Focus
Just like with other brands, human focus is the best. Sony, however, has an edge since they were the first to introduce eye focus in a camera. No matter how fast the person moves, focus in both photos and videos is almost always perfect.
Even during burst photography and AF tracking, the APS-C camera has little trouble keeping the eye in focus. Of course, not every photo is a bullseye.
View the larger versions of these photos. These photos were taken at the Mexican Pop-up restaurant Maria & Pepe in Rotterdam.
Switching Between Autofocus Modes
Switching between autofocus modes can be frustrating. Not only because there are many choices, but also the way it's done. It can be done directly in the autofocus menu, but also via the dials. Both methods take time.
You can move the focus point by tapping on the screen, provided you have enabled this option. It happens multiple times that I don't realize that touch focus is turned off, and then I'm tapping on the screen for nothing. Moving it can also be done via the large button by clicking left/right, up/down, but that's quite slow. A joystick would have been handy.
Sony A6700 Test and Review: Video
A better sensor and image processor automatically result in better video. 4K footage is obtained from oversampled 6K material, and you can film in 4K up to 120fps or 240fps in Full HD, which translates to ten times slow-motion footage.
You can record UHD 4K 10-bit 4:2:2 S-Log and S-Cinetone with high bitrates, providing 14+ stops of dynamic range. However, you will need UHS-II V90 memory cards for this. RAW or ProRes recordings are not possible, not even via HDMI to an external recorder.
Autofocus in Video
Sony is the absolute leader when it comes to autofocus, and I see that in the video as well. The ease with which my head and eyes are tracked is remarkable. But, just like with other cameras, the A6700 sometimes struggles when you're working with a zoom lens at full zoom and tracking a fast-moving subject. That's where you see the difference between camera autofocus, and the A6700 gets a passing grade.
Video Resolutions, Bitrates, and FPS on the A6700
For shooting video at the highest quality, you can set the A6700 to UHD 4K, 60fps, H.264, and 600Mbps. Keep in mind that you'll need a card like the SanDisk Extreme Pro 300mb/s (V90 II / U3 / Class 10) for this, or else the camera won't be able to record. The same applies to 120fps in 4K.
Below, you can see all internal recording options:
XAVC HS 4:2:2 10-Bit
UHD 4K (3840 x 2160) at 23.98/50/59.94/100/120 fps [50 to 280 Mb/s]

XAVC HS 4:2:0 10-Bit
UHD 4K (3840 x 2160) at 23.98/50/59.94/100/120 fps [30 to 200 Mb/s]

XAVC S 4:2:2 10-Bit
UHD 4K (3840 x 2160) at 23.98/25/29.97/50/59.94/100/120 fps [100 to 280 Mb/s]
1920 x 1080 at 23.98/25/29.97/50/59.94 fps [50 Mb/s]

XAVC S 4:2:0 8-Bit
UHD 4K (3840 x 2160) at 23.98/25/29.97/50/59.94/100/120 fps [60 to 200 Mb/s]
1920 x 1080 at 23.98/25/29.97/50/59.94/100/120 fps [16 to 100 Mb/s]

XAVC S-I 4:2:2 10-Bit
UHD 4K (3840 x 2160) at 23.98/25/29.97/50/59.94 fps [240 to 600 Mb/s]
1920 x 1080 at 23.98/25/29.97/50/59.94 fps [89 to 222 Mb/s]
The setting with the highest quality is the XAVC S-I 4:2:2 10-bit, and this requires the extra-fast UHS-II cards. Fortunately, even with 4:2:0 and 8-bit, you get sharp footage from the camera.
Auto Framing on the Sony A6700
Auto Framing is a new feature from Sony. The idea is that the camera automatically creates a smaller and moving crop. This makes a static image more dynamic. Auto Framing works in three modes: wide, medium, and close. In the 'close' mode, the camera will zoom in more and try to create a portrait mode. I extensively tested this feature. Is it usable?
You can adjust the speed at which Auto Framing zooms in and follows from 1 to 5. After testing for a while, I think the best setting is at tracking speed 3 or 2. Above that, especially when zoomed in, it becomes too hectic. It depends on your style as well.
The safest option is always to use a wide shot, 16mm, and a good close-up. Keep in mind not to stand further than 5-7 meters away, otherwise, the cropping stops. It has to, or else you would zoom in too much on pixels. I guess the crop goes up to a maximum of Full HD.
Keep in mind that you always zoom in on 4K material, which means this only works well if you're uploading Full HD videos or are willing to accept some loss in quality.
Second Camera Person
It's impressive that you have a kind of second camera person with you without post-processing. It's useful if you want to create a slightly more dynamic shot without even needing to use keypoints in post-production. If you practice a bit, I think this could be a frequently used feature.
Also, keep in mind that you have no control over the video zoom because this is already done in the camera. Often, zooming in at the right moment can emphasize certain words you say or something happening in the frame. This doesn't work (yet) with autofocus tracking mode. And most importantly, the zoom-ins and crops are permanent.
When we look at the Auto Framing feature, it works well and can add an extra dimension to your video. But do you need it? Hopefully not because many of the best videos have no motion at all and use static images, whether someone walks through them or not. However, this feature is definitely a good addition for some variety and for recording an introduction to your video.
One more thing; after half an hour of filming (and reviewing) in the highest quality, the battery went from 100 to 64 percent. So, it's a feature that demands a lot from the battery. If you plan to use these features on a trip, make sure to have at least one or two extra batteries.
Overheating During Video Recording
High frame and bitrates are nice, but I noticed that several cameras tend to overheat rapidly, and the Sony A6700 is one of them.
After a good 5-minute interview in 4K 10-bit, the camera indicated that it was getting warm. Cooling down took a minute, after which I could continue recording. For long recordings, this is obviously a significant problem, and if you plan to capture long interviews or concerts, it's better to consider the Sony FX30. It has a built-in fan.
Sony A6700 Test and Review: Price
The Sony A6700 is available starting from $1398 without lenses. If you already have E-mount lenses, you can start using it right away. The camera is of such high quality that some FE lenses will certainly be worth it. However, these are full-frame lenses and therefore more expensive.
The main competitor of the A6700 is the Fujifilm X-S20, which can do virtually the same (or even more) and is a bit cheaper (€1699 vs €1349). So, there are alternatives for less money, but you would have to choose a completely different brand.
Sony A6700 Test and Review: Conclusion
That the A6700 is better than the A6600 in all respects should be logical (aside from the EVF, which still lags). With this APS-C mirrorless camera, you get UHD 4K 120fps with high bitrates, razor-sharp photos, and autofocus with AI support borrowed from flagship models. But you also pay a hefty price for it, with good alternatives from other brands that are slightly cheaper.
If you're willing to invest the money, you have a hybrid camera on hand that you can use in any situation. If you're a vlogger and filmmaker and are torn between the ZV series (with a 1-inch sensor) or this APS-C version, the main difference is the sensor size and the viewfinder. If you even remotely like photography, go for the camera with the viewfinder: the A6700.
Although the image quality gets a high score, it drops when it gets dark; ISO values above 6400 should be avoided. Furthermore, the 5-axis stabilization is not the best, especially when shooting handheld, but it does help with reducing shakes.
It's also remarkable how Sony has managed to cram the power of this hybrid APS-C camera into a remarkably compact body. This makes it attractive to take on trips and long hikes, for example.
All in all, the Sony A6700 is a camera that delivers a lot of quality in every aspect. If you buy this camera, you can go for years thanks to its high internal and external quality (at a steep price).
Buy the Sony A6700 if…
You're looking for the best autofocus in an APS-C mirrorless camera.
The autofocus with 759 phase-detection points and AI support on the A6700 is excellent. It recognizes not only people, animals, birds, and vehicles, but also insects. This makes the camera suitable for close-up and macrophotography. The internal image stabilization can also help with that.
You're often on the go and both take photos and shoot videos.
The quality of both the video and photos is exceptionally high. In the field of video, you can capture high-quality UHD 4K 24fps and 120fps footage with higher bitrates. The camera is relatively lightweight, which, combined with the vari-angle screen, makes it perfect for selfie vlogging.
You like settings and customization.
The menu of the Sony A6700, and Sony in general, is not the easiest to navigate. On the A6700, you'll find 3 function buttons and many ways to customize the camera to your liking. With a camera like this, it's definitely recommended. There's definitely logic to be found in the menus, but it takes time and a little dedication.
Don't buy the Sony A6700 if…
You work a lot in low light conditions.
A smaller sensor, APS-C in this case, means less space to capture light. While modern technology is getting better at suppressing noise, the A6700 is certainly not a low-light king like the full-frame A7s series. The A6700 is great when there's enough light, but in less to minimal light, even with an f/2.8 lens, it's not great.
You want to quickly get started in 'auto' mode.
The Sony A6700 is definitely not an automatic camera and is designed for image creators who want to set their settings. You can tell by the many buttons on the camera and the extensive menu. If you're looking for a camera that does everything for you, then the A6700 is not the right choice. In that case, consider models like the Sony ZV-1 II or Nikon Z30 (both without a viewfinder).
You're only a filmmaker.
Although the image quality is excellent, when working with UHD 4K 120fps, you have a significant 1.6x crop on a sensor that is already APS-C sized. This is great if you want to capture athletes in action, but it also means you'll need an extra-wide lens if you want to capture wide shots. There is an Active SteadyShot mode available, but it also works with a crop and is not very effective.
Sony A6700 FAQ (Frequently Asked Questions)
Is the Sony A6700 suitable for macrophotography?
Yes, it's possible. The A6700 has 5-axis internal image stabilization, which helps with shooting handheld. It also has a special insect focus mode. The advantage of a Sony system is that there are more than enough Macro APS-C and Full Frame lenses on the market.
Is the Sony A6700 good in low light or in the dark?
When using a fast lens (f/2.8 to f/4) and going up to ISO 6400, you can easily use the Sony in low-light conditions. Although there is 5-axis image stabilization, it's not as good as in full-frame models. But it does help with shooting handheld at longer shutter speeds.
Can I vlog with the Sony A6700?
Absolutely, the A6700 offers 4K 24, 25, 30, and 120fps modes with high bitrates and 10-bit formats. This means you can get the highest video quality from the camera while producing a video. Thanks to the 5-axis image stabilization and the fully articulating touchscreen LCD, you can also film yourself (while walking). However, it's not the best 5-axis image stabilization system on the market.
What is the Auto Framing feature on the Sony A6700?
The Auto Framing feature on the Sony A6700 turns a wide static 4K image into a smaller, cropped dynamic image. You can choose from wide, medium, and close crop options, with "close" zooming in the most. The camera automatically digitally zooms in on the main subject as it moves through the frame.
Is the Auto Framing feature on the Sony A6700 good for vloggers?
The Auto Framing feature is good for vloggers and helps make static shots dynamic and more interesting. Especially for the introduction or end of a video, this can be a handy feature. For example, think of a video segment where you talk continuously for 30 seconds. This can be quite boring visually, but now you can slowly walk through the frame while the Sony automatically follows you with wide, medium, and close crop. It won't be a feature you use constantly because it digitally zooms in on the image, resulting in a loss of quality.