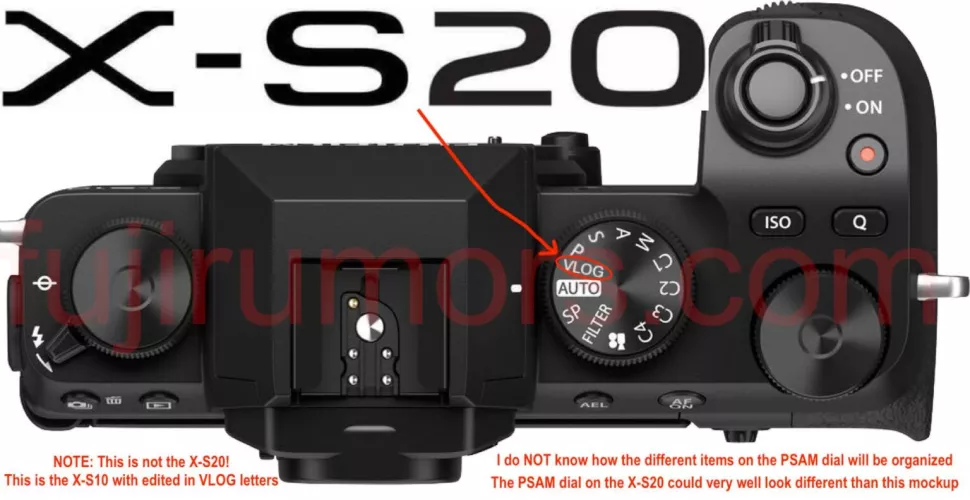 It looks like the Fujifilm X-S20 is about to be announced. Thanks to some solid, but reliable speculation, we already know quite a bit about this camera. For example, it is made for beginners, but it is a lot pricier than the X-S10.
The camera is also suitable for both photography and (6K) film, and would even have a special vlog mode on the dial.
Sturdy beginner's camera
The Fujifilm X-S20 will be a hybrid camera for beginners, who can choose between photography and film. This is all packaged in a very sleek looking body, as we have come to expect from Fujifilm.
Same sensor as the X-S10, but with X-Processor 5
Although Fujifilm already has a 40 megapixel APS-C sensor, it appears that the X-S20 will get the same 26 X-Trans IV sensor as the Fujifilm X-S10. However, the new X-Processor 5 is used, which is also used in the Fujifilm X-H2s and Fujifilm X-T5. A good image processor ensures fast processing and the possibility to make recordings at high bit rates.
Filming in 6K
The fast image processor that the X-S20 gets ensures that filming in 6K 30fps and 4K 60fps is possible. This is a decent upgrade over the X-S10, which goes up to 4K 30fps.
Vlog mode added on dial
It appears that the X-S20 will have a special vlog mode, which can be turned on by turning the dial. This indicates that Fujifilm also wants to target vloggers.
Speculation, but reliable
It is Fuji Rumors who got hold of this data. And while it's all speculation, the specs seem realistic. The announcement of the X-S20 can take place on May 24.
The beginner system camera will probably cost around €1150, which is hefty for an entry-level model and therefore also exceeds the €1000 for system cameras. It's even 30% more expensive than the X-S10 cost at launch. Who knows, the X-S20 will be positioned more in the middle class.