Canon EOS R8 prices and packages
24.2MP CMOS full-frame sensor | Dual Pixel CMOS AF II | 40fps burst | HDR PQ and Canon Log3 | 4K 60fps Movie | 180fps FHD Movie | 5-axis internal stabilization | 3″ vari-angle touchscreen | Active accessory shoe | 2.36MP OLED viewfinder | RAW burst with 0.5s pre-capture | Focus bracketing | 461 grams
$ 1.499,00
Best deal at:

Amazon.com
Buy for best price
Last Amazon price update was: October 1, 2023 11:24 am
×
Product prices and availability are accurate as of the date/time indicated and are subject to change. Any price and availability information displayed on Amazon.com (Amazon.in, Amazon.co.uk, Amazon.de, etc) at the time of purchase will apply to the purchase of this product.

Canon EOS R8 prices and packages
Description
Canon EOS R8 prices
The Canon EOS R8 is a full-frame mirrorless camera that can be used by both photographers and filmmakers. The body is light and compact and uses the same 24.2MP CMOS sensor that is incorporated in the Canon EOS R6 Mark II. On this page you will find a description and the best Canon EOS R8 prices.
Features Canon EOS R8
24.2MP CMOS full-frame sensor
Dual Pixel CMOS AF II
40 fps burst
HDR PQ and Canon Log 3
4K 60fps movie
180fps FHD movie
5-axis internal stabilization
3″ vari-angle touchscreen
Active accessory shoe
2.36MP OLED viewfinder
Raw burst with 0.5s pre-capture
Focus bracketing
461 grams
Smart and powerful camera
Thanks to the full-frame 24.2MP CMOS sensor and DIGIC X image processor, you have a camera with powerful and new technology in your hands. The large sensor captures a lot of light and is helped by the ISO settings in difficult lighting conditions. The ISO can be set from 100 to 102,400 and can be expanded to 204,800.
Made for high quality 4K movie recording
The maximum movie resolution on the EOS R8 is 4K, but it is oversampled from 6K footage. In 4K, you can film at a maximum of 60 frames per second, which means that the images can be slowed down by up to 2 times. In 30 fps, you can record 4K material in 4:2:2 10-bit and make clips up to 2 hours long.
Wide dynamic range with Canon Log 3
If you want to get the most out of the EOS R8, you have the option to film in Canon Log 3 and HDR PQ. HDR PQ records 10-bit color files without any additional processing. These HDR files work together with suitable HDR TVs, monitors, and smartphones. This is especially useful if you would like to play back images directly, without editing.
Canon Log 3 is a flat color profile, which gives you the greatest dynamic range. This way, more information from the shadows and highlights is captured and processed. This is especially useful when you spend a lot of time on color correction.
Up-to-date with vertical mode
Today, most images on smartphones are played vertically. Thanks to the film rotation information, a video can automatically be played vertically on smartphones, for example. Aspect Markers is a feature that displays visual markers on the screen, so you know what will be on a screen while filming.
5-axis internal stabilization
Images are always stable thanks to Movie Digital IS 5-axis image stabilization. This ensures that you can film, vlog and photograph handheld with slower shutter speeds. Vibrations and shocks are absorbed as much as possible. The stabilization gets even better when you use a Canon RF lens. Note that the EOS R8 is about digital, not physical stabilization.
Fast burst photography
For photographers who want to capture fast-moving objects such as birds or cars, a burst of 40fps is available. In addition, pre-capture of 0.5 seconds is present. This feature captures images up to half a second before you press the shutter button. Thanks to the 120fps refresh rate in the OLED viewfinder, you'll never miss a fast-moving subject.
Dual Pixel CMOS AF II
Canon's most advanced autofocus system is, of course, also used in the Canon EOS R8. With this, faces, eyes, heads and body parts are recognized and actively followed, even if they are briefly removed from view. But animals such as dogs, cats, horses, and followers are also recognized by the camera. The last option is to track vehicles such as cars, motorcycles, trains, and planes. Active autofocus is also available in burst modes.
Vari-angle 3-inch touch screen
In addition to the 2.46 million-dot OLED electronic viewfinder, there is also a 3-inch touchscreen. This screen, with a resolution of 1.62m dot, can be rotated in all directions for easy use.
Easy connectivity
The EOS R8 has many connection options for remote control of the camera. Think of 2.4GHz WiFi and Bluetooth 4.2. UVC is placed on the camera to enable plug & play streaming. On top of the EOS R8 is a multifunctional hotshoe, which provides power to accessories. In addition, information transfer can take place. Think of the settings of an external flash.
Canon EOS R8 prices
Click on the tabs to switch between the Canon EOS R8 body and lens combinations
Last Amazon price update was: October 1, 2023 11:24 am
×
Product prices and availability are accurate as of the date/time indicated and are subject to change. Any price and availability information displayed on Amazon.com (Amazon.in, Amazon.co.uk, Amazon.de, etc) at the time of purchase will apply to the purchase of this product.
The Canon EOS R8 is a special camera because it can actually do everything. As a photographer, you have a 24.2MP full frame camera in your hands that has an impressive burst of 40fps (electronically). In addition, it is possible to set the ISO value to a maximum of 204,800 for evening shots. The filmmaker can shoot 4K 60fps images extracted from 6K oversampled material. Set the camera to 30fps to capture 10-bit 4:2;2 footage. The camera is light and small, and therefore suitable for vlogging and travel work. However, some elements are missing. Think of no physical image stabilization and batteries that are smaller and therefore have less capacity. Due to the small design, there are also fewer buttons on the camera. However, these are all elements that most users can do without, making this a great choice for full frame beginners.
PROS
Latest topic tracking
40fps electronic burst
Very light and compact
CONS
Batteries have less capacity
No joystick or jog wheel
An oddly placed memory card slot
Additional information
Specification:
Canon EOS R8 prices and packages
What is cameradealsonline
What is cameradealsonline
What is Camera Deals Online?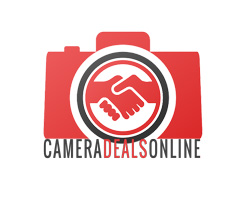 We at Camera Deals Online find the best video and photo camera, lens and drone and online prices for you. With us, you can find camera prices, top-lists and we write reviews and blogs with tips and camera information. In addition, we give you the latest news about cameras, smartphones, camera equipment, film, and the photography field. This way, we help you find and buy the best camera, lens, drone, gimbal and accessories. Our website is 100% independent.
Camera Deals Online exists thanks to you! When you buy a product through one of our links, we receive a small percentage of the total amount. This has no effect on the price of the product. Thank you!
News and recent posts